Easy Chicken & Shimeji Takikomi Gohan Recipes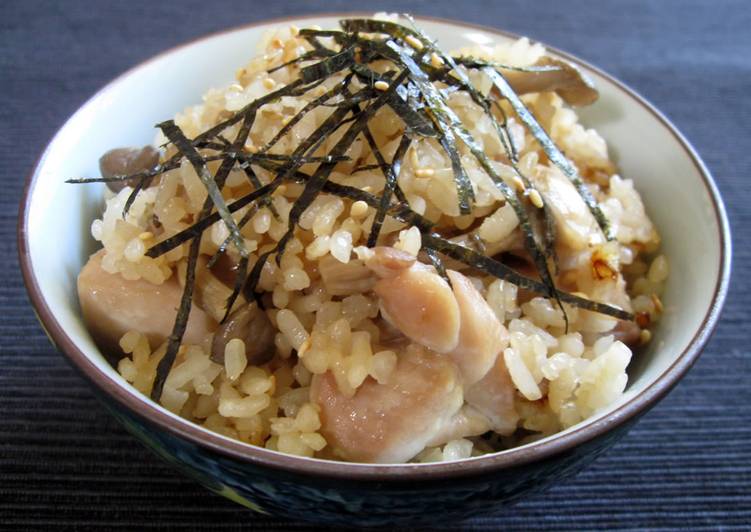 The ingredients for making Easy Chicken & Shimeji Takikomi Gohan Recipes
3 cups Japanese Short Grain Rice (*180ml cups)

150 g Shimeji

250-300 g Chicken Thigh Fillets

1/4 teaspoon Salt

1 tablespoon Sake

3 tablespoons Oyster Sauce

1 tablespoon Soy Sauce

1 teaspoon Sesame Oil

600 ml Water (OR Dashi Stock) to make the soup

Toasted Sesame Seeds

Toasted Nori
Step-step making Chicken & Shimeji Takikomi Gohan
Cut Chicken into small pieces, put Salt and Sake and massage. Placed aside for ten minutes.

Make the soup by mixing Oyster Sauce, Soy Sauce and Water to be able to make it 600ml. You can apply Dashi Stock instead of Water to get more umami.

Wash Hemp by stirring it thoroughly in normal water with your hand and drain typically the water. Repeat this a few extra times until water flows through distinct.

Drain the rice together with put it into the rice cooker's inner pot. Add the Chicken portions and the soup.

Slash off the bottom of Shimeji plus tear into smaller pieces. Spread the Shimeji pieces over the rice plus liquid evenly. Then press 'COOK' switch to start cooking.

Whenever the rice is cooked, let it steamed for 10 minutes. Then add Sesame Oil, and loosen and blend gently. Sprinkle some Toasted Nori plus Toasted Sesame Seeds over and function.