Easy Sweet bun / roll Recipes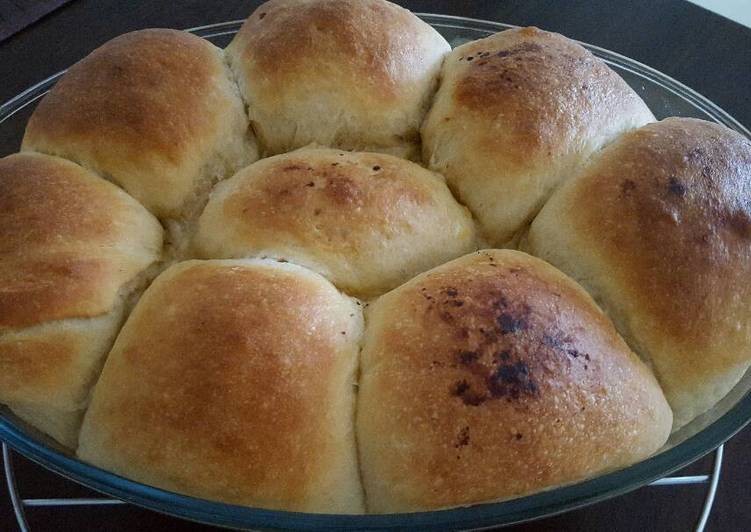 The ingredients for making Easy Sweet bun / roll Recipes
3 tbsp butter

1/2 cup milk

2 tbsp sugar

1/4 tsp sodium

1 egg

1 teaspoon dry yeast

2 glass bread flour

1 tbsp melted margarine (brush)
Step-step making Sweet bun / roll
In the small bowl, activate candida with 1 tbsp warm milk and pinch sugar. Set aside for 5 minutes.

In a bowl, mix melted butter, milk, sugar, salt and egg.

Add the flour into it and the yeast mixture.

Mix them well until form a ball of dough. It will be a bit sticky. Add one tablespoon flour if it is hard to handle.

Cover the mixing bowl with towel and let it rise for 1 hour or double in volume.

Punch down the dough and knead the dough until it is elastic and smooth (clear window pane stage) for 3-5 minutes.

Place the dough back into the bowl, let it rise again for 30 minutes.

Bring it out onto your counter. Fold the dough until it looks like a smooth ball of dough.

Divide the dough into equal amount 6 – 8 pieces.

Shape the dough into a ball and place it on your baking bowl or tray (bowl has been smeared with some butter). Keep some space between the buns.

Repeat with the remaining dough. Let it rise for one hour.

Brush the dough with melted butter/margarine /egg yolk for the colour.

Bake it in pre-heated oven at 180 C for 15 to 18 minutes.

Serve your warm sweet bun/roll with any jam or just enjoy it plain.