Easy Chicken Dhansak Recipes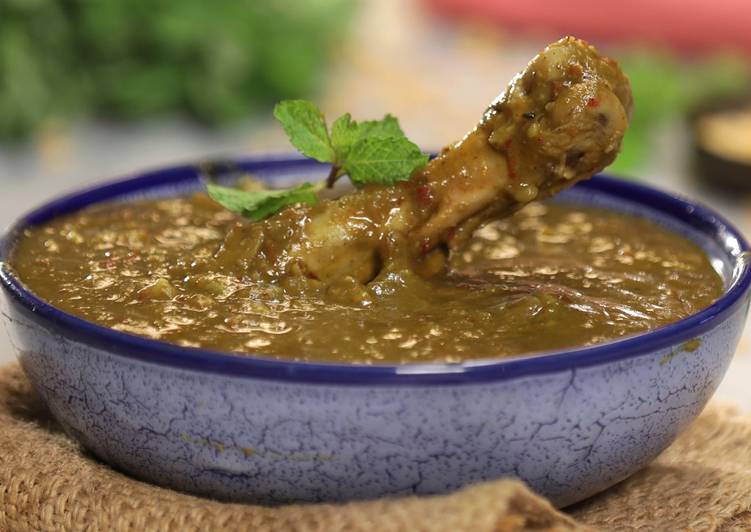 The ingredients Easy Chicken Dhansak Recipes
2 tbsp toor dal

2 tbsp chana dal

2 tbsp urad dal

2 tbsp moong dal

250 grams chicken curry cut

2 onions chopped

1 green chilli chopped

1/4 tsp nutmeg powder

1/4 tsp turmeric powder

1/4 cup coriander leaves

1/2 cup fenugreek leaves

1/4 cup mint leaves

1 tbsp tamarind paste

1 tbsp ginger garlic paste

2 tbsp ghee

1 tsp Salt

For dry Roasting

4 black peppercorns

2 cloves

1 cardamom

1/2 inch piece cinnamon

1/2 inch piece of mace

1 bay leaves

1 star anise

2 dry kashmiri red chilies

1/2 tsp cumin seeds

1/2 tsp coriander seeds

1/4 tsp fenugreek seeds

1/2 tsp sesame seeds
Step-step making Easy Chicken Dhansak Recipes
Wash and boil the lentils with ½ tsp salt till they are soft.

Dry roast all the spices under "for roasting" till they release their own aroma.

Cool and then grind to a fine powder.

Mix in the turmeric and nutmeg and mix well. Keep aside.

Once the lentils are cooked, whisk them to a smooth and thick regularity.

Add water if required.
Warmth ½ tbsp ghee in the pan and fry coriander, fenugreek and mint till they change soft and then grind them to a smooth paste.

Heat the remaining ghee in a kadai and fry the onions till they turn soft and translucent.

Add ginger garlic paste and saute till the raw aroma will go away.
Add the essence powder, ½ tsp salt plus fry for few mins till they start sticking to the pan.

Add ¼ cup water plus cook the spices for the min.
Add chicken plus saute in the masala with regard to 5 to 10 mins.

Add the lentils, coriander paste and tamarind paste and bring to the boil, stirring frequently to prevent sticking.

The consistency should be like a medium-thick soup.
Add a cup of water cover up and cook till chicken will be done.
Serve hot.