Easy Matcha & Azuki Roll Cake Recipes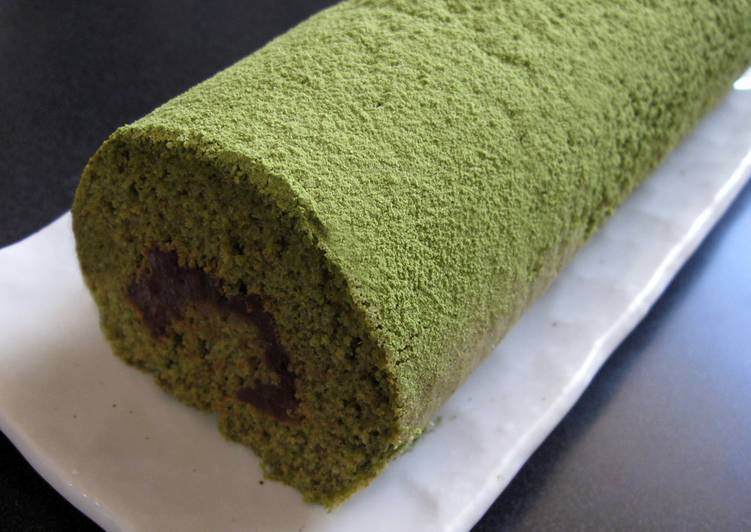 The ingredients Easy Matcha & Azuki Roll Cake Recipes
4 Eggs

1/4 cup Caster Sugar

1/2 cup Self-Raising Flour

1 tablespoon Matcha Powder

2 tablespoons Milk

20 g Butter *melted

100-150 g 'Azuki' Red Bean Paste *I used processed 'Tsubu-an'

1 teaspoon Icing Sugar for dusting

1 teaspoon Matcha Powder for dusting
Step-step making Easy Matcha & Azuki Roll Cake Recipes
Preheat oven to 200°C. Line the particular base and sides of a Switzerland Roll Pan with baking paper. *Note: Today I used 27cm x 18cm square cake tin for thicker pastry.

Use an electric appliance to whisk Eggs and Sugar plus make the mixture very thick plus pale colour. Add Milk and Butter, mix to combine, the volume can be slightly reduced but do not really worry, sift in Flour and Matcha Powder, and gently combine.

Pour into the prepared pan plus smooth the surface. Bake for 10-12 minutes or until the surface can be dry to the touch.

Place the sponge onto a clear work surface and peel the cooking paper, but do not remove the particular paper. Spread the 'Azuki' Paste more than the sponge, whichever side you choose, then roll sponge to enclose making use of the paper.

In the small bowl, combine Icing Sugar plus Matcha Powder, sprinkle the mixture more than the cake.