Easy Gulkund stuffed Paan laddoo#diwali Recipes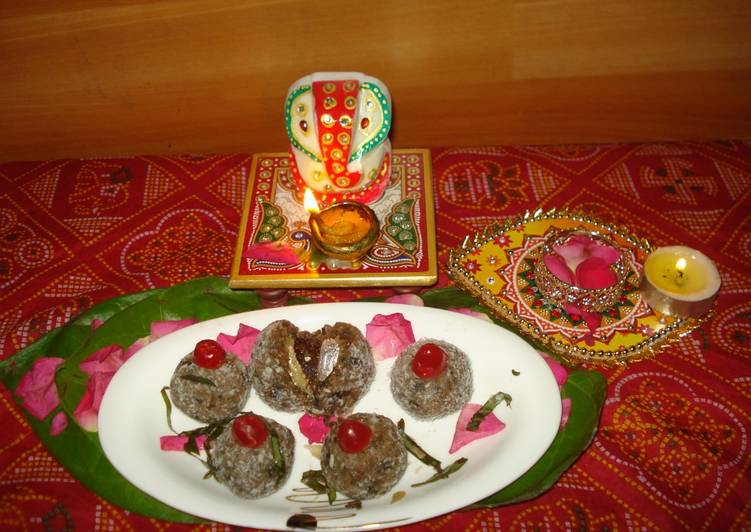 The ingredients Easy Gulkund stuffed Paan laddoo#diwali Recipes
200 gms khoya

100 gms dessicated coconut

100 gms powdered sugar

1 pinch green cardamom powder

4 beetal leaves (paan) cut into juliennes

1 pinch edible green colour (optional)I did not use it

1/2 cup dessicated coconut for coating

2 tbsp Gulkund(rosejam)

1 tsp ghee for greasing

2 tbsp Chopped dry fruits (cashew, walnut, pistachios, almonds)

glazed cherries, betel leaf julienes and rose petals to decorate
Step-step making Easy Gulkund stuffed Paan laddoo#diwali Recipes
For stuffing – In a pan, add the Gulkand and the dry fruits and cook on slow flame till it binds together. Switch off the gas and keep it aside to cool.

Roll the paan leaves together and cut into thin julienes.

Cook the khoya and coconut mixture in the heavy bottom pan, on medium low flame. Stir the mixture continuously to avoid burning. Add the paan leaves julienes and a pinch of green food color(if using) and cardamom powder to it. i did not green fooduse colour.

Within 2 to 3 minutes, the mixture will start leaving the sides and come together as dough. Switch off the gas. Cool the mixture and mix powdered sugar well.

Grease your palms with ghee. Pinch a small portion of the mixture and make a depression with your thumb on it and place a bit of Gulkand and dryfruits mixture inside and roll between your hands into balls like ladoos.

Roll the ladoos in desiccated coconut and keep aside. Decorate with glazed cherries, betel leaf juliennes and rose petals.

Serve this easy and sweet Paan ke Ladoo. #this diwali.