Easy Apple Pie Samosa Recipes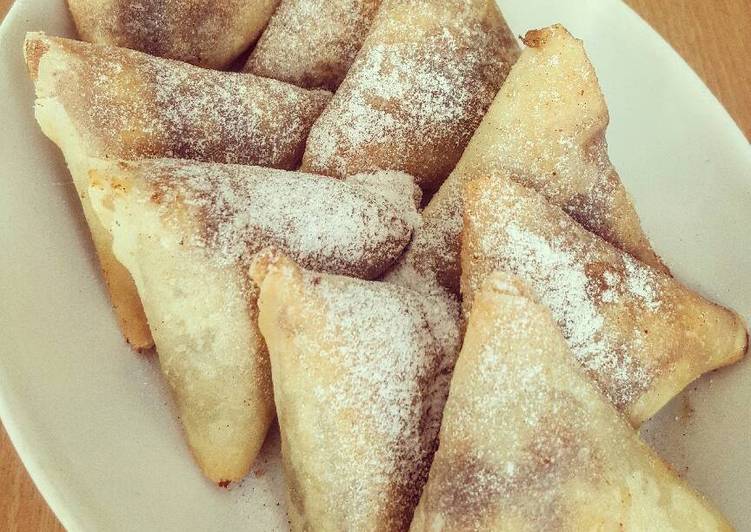 The ingredients for making Easy Apple Pie Samosa Recipes
Apple pie filling ingredients:

3 apples, peeled, cored, and finely diced

1/4 cup granulated sugar

2 1/2 tbs all purpose flour (I used corn flour)

1/2 of orange juice

1/2 of orange zest

2 tsp lemon juice

1 tsp cinnamon powder

1 pinch salt

spring roll skin

Topping:

3 tbs icing sugar

1 pinch cinnamon powder
Step-step making Apple Pie Samosa
Prepare all your ingredients. Apple pie filling could be prepare a day before, but you need to cook it first, and save it into your fridge for wrapping it with spring roll skin the next day.

Add the apples along with sugar, lemon juice, salt, cinnamon, flour and orange zest in a bowl and stir together to mix everything well. You could straight fold it with spring roll skin and fried it or cook it first if you want to wrap them for the next day. (Mine, I cooked it the day before. )

Prepare your spring roll skin, and the apple pie filling, fold into triangle shape, look at the link that I have given to you above, or just wrap it like a spring roll in an easier way.

Deep fried the folded spring roll, serve with sprinkled cinnamon sugar (icing sugar cinnamon powder).