Easy Turmeric Arroz Caldo – Filipino Chicken Congee with a Twist (with Brown Red Rice) Recipes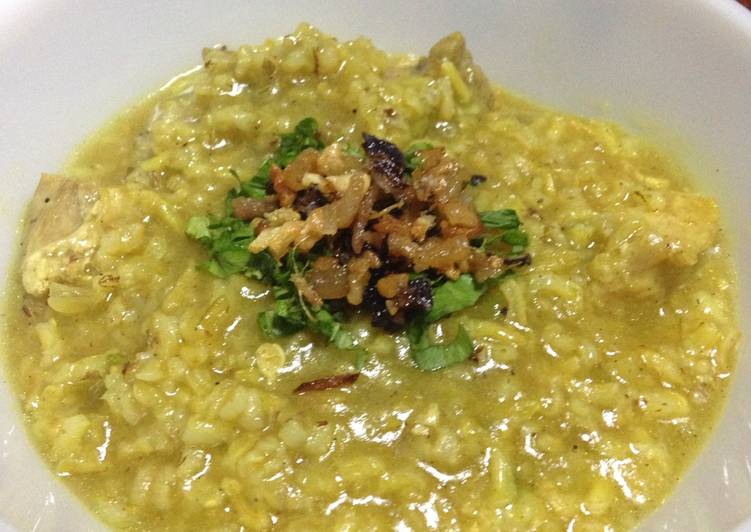 The ingredients for making Easy Turmeric Arroz Caldo – Filipino Chicken Congee with a Twist (with Brown Red Rice) Recipes
4 small red onions, roughly cut

3 cloves garlic, cut

1 big knob turmeric, sliced lengthwise

1-2 gulf leaves

1/2 a rooster, salted and sliced

6-7 c water

1/2 Chicken bullion or broth cube

1-2 d brown

Step-step making Turmeric Arroz Caldo – Filipino Chicken Congee with a Twist (with Brown Red Rice)

Heat 1T oil in a sauce casserole pan. Add onions, then garlic. Saut.

Note on ginger: if you're not fond of chewing ginger pieces in your dish, slice them big enough so you can remove them after cooking.

Add the sliced ginger. In a cup of water, stir in the Turmeric and pour in. Drop in the bullion or stock cubes. Mix around then cover for a few minutes.

Check your rice, check your seasoning. Add salt, stock cube, more water as desired.

While the rice continues cooking, prepare your garnish. In a pan, heat the remaining oil. Saut the chopped pork belly (optional, tastes great when sprinkled on top with garlic) and garlic until golden. I added ginger, as I'm fond of fried ginger, and also adds to the flavor. When crisp, but not burnt, remove and set aside.

When the rice is cooked, if it's too thick add a bit more water as desired. Mix well.

This is perfect for cold nights!