Easy Brad's chicken lo mein with red curry rice Recipes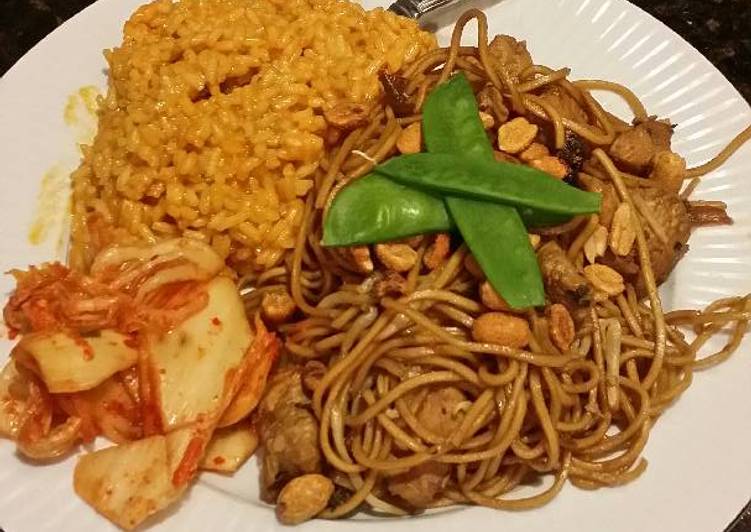 The ingredients for making Easy Brad's chicken lo mein with red curry rice Recipes
a couple of lg chicken boobies, cut to bite sized bits

1/2 LG ELECTRONICS red onion, diced

a single small bunch bok choy, chop only whites

1 tbs minced garlic

1/4 c lite sodium soy marinade

1/4 c brown sugar

2 the best spinner's oyster sauce

1 tbs species of fish sauce

1 pkg lo mein noodles, well prepared

1 tbs chile infused olive oil

for the rice

2 c white rice

1 can easily coconut milk

2 tbs red curry paste

1/2 teaspoon granulated chicken bouillon

1 tbs fish sauce

1 3/4 cup water

garnish

Chinese snow peas

honey roasted nuts

hot and spicy .k chi
Step-step making Brad's chicken lo mein with red curry rice
Pre heat a large fry pan. Add oil, chicken, onion, and bok choy. Saut until onion is translucent.

Add garlic, soy, brown sugar, and both sauces. Simmer until chicken is done.

Toss in noodles to coat with sauce.

Meanwhile, rinse rice in water. Drain completely. Add to a sauce pot. Add rest of ingredients and stir well. Bring to a boil. Cover, reduce heat and simmer on low until most of the liquid is absorbed. Turn off heat and let steam for five minutes. Do not remove lid. Rice should be a little saucy.

Plate lo mein and rice. Garnish with Kim chi, peanuts, and snow peas. Serve immediately and enjoy.