Easy Garlic Parmesean Scalloped Potatoes Recipes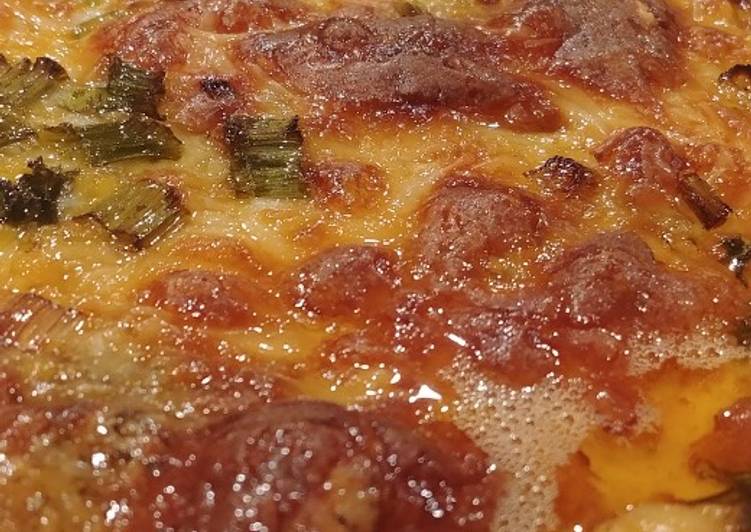 The ingredients Easy Garlic Parmesean Scalloped Potatoes Recipes
6-8 Idaho potatoes chopped up thinly or scalloped with epidermis on

5 slices bacon

6 the best spinner's butter

three or more garlic cloves minced

6 tbs flour

4 cups milk

2 teaspoon dry mustard

1/2 tsp thyme

1/2 tsp paprika

2 tsp salt

2 teaspoon pepper

two cups sharp cheddar cheese

2 cups mozzarella cheese

two cups Parmsean mozzarella cheese

1 reddish colored onion thinly sliced

six green onions cut

1/2 bunch parsley chopped
Step-step making Easy Garlic Parmesean Scalloped Potatoes Recipes
In a saucepan, cook bacon.

When bacon is done, remove bacon and bacon grease from saucepan and set aside.

Melt butter in the same saucepan you just cooked the bacon in.

Once butter has melted, add garlic and saute for about 2 to 3 minutes. Try not to brown too much.

Stir flour in garlic butter mixture and cook for 1 minute.

Whisk in milk and continue to whisk until there are no lumps.

When sauce starts to thicken, crumble bacon and add with some of the bacon grease to the milk sauce. You can use all the bacon grease, but it is to your discretion. I only used half.

Add the dry mustard, thyme, paprika, salt and pepper to sauce. Stir for another minute.

Add all three cheeses and stir until all cheese have melted. Sauce should be thick by now.

In a casserole dish, layer from bottom up: scalloped potatoes, red onion slices, cheese sauce mixture; scalloped potatoes, onion, cheese sauce mixture. If you can make another layer, go for it.

Sprinkle top with chives, parsley, and a little more of each of the 3 cheeses.

Bake at 400 degrees for 45 minutes or until top is browned.