Easy Warm broccoli paneer piri piri salad Recipes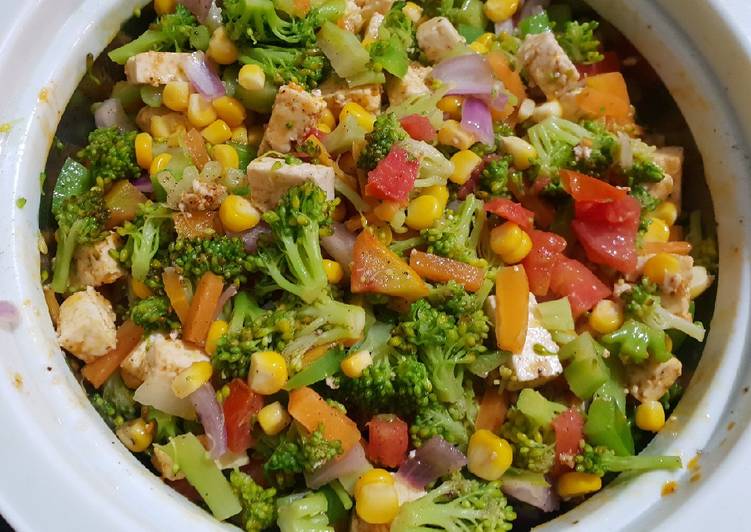 The ingredients Easy Warm broccoli paneer piri piri salad Recipes
1 pot broccoli florets

1/4 pot sweet corn

2 tbsp carrot slices

1 small onion sliced (thick)

you small tomato deseeded together with chopped (rectangular)

1/2 smaller capsicum chopped

100 gm paneer chopped

2 tbsp butter

1 tbsp total piri masala

2 tsp oil

to taste Sodium

1 tsp black tear gas powder
Step-step making Easy Warm broccoli paneer piri piri salad Recipes
Cut paneer into small rectangular shape, add 1tbsp melted butter, pinch salt and 1/2tbsp piri masala. Mix well and keep aside for 20-30 min.

Boil water and add broccoli, salt. Boil for 2min. Remove broccoli and add carrot, wait for 1min, and remove it. Keep aside

Heat kadhai, add 1tsp oil and add corn m salt as require. Cook for 1min on medium heat. Add into big bowl.

In that kadhai, add 1tsp oil, add onion and capsicum. Cook for half min. Transfer into bowl. (Add into corn) Add tomato into salad bowl.

Add broccoli and carrot into kadhai and butter. Saute for half min. Add into salad bowl.

Add paneer into kadhai and saute for a min. Add into salad bowl.

In salad bowl, add black pepper powder, salt as require, 1/2 tbsp piri masala (Add as per your taste, spicy food u like). Mix well all, with care do not brock broccoli florets.

Serve hot. U can add melted butter again for butterly delicious flavour.