Easy Pasta & Stuffed veg Curry Recipes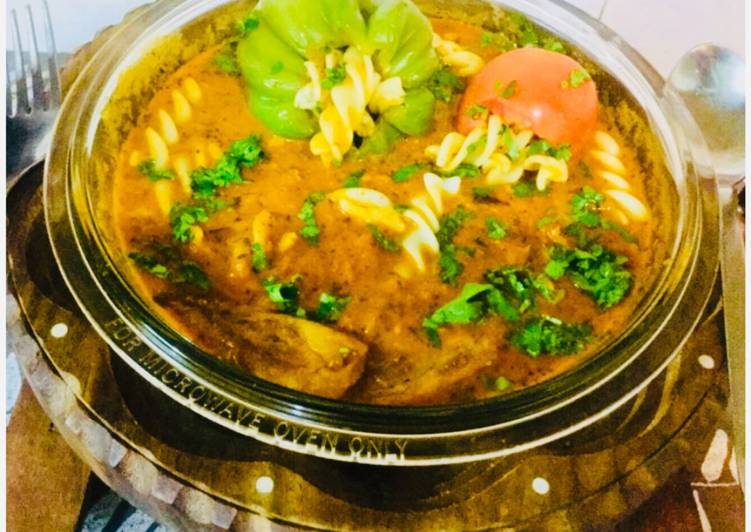 The ingredients Easy Pasta & Stuffed veg Curry Recipes
two hundred fifty g Pasta

1 cup Tomato puree

1/2 cup Onion -garlic paste

1 tsp alternative chilli paste

2-3 tomatoes

2-3 capsicums

spices to be mixed along

to taste salt

1 tsp -red chilli powder

1 tsp -Oregano

1/2 tsp dried Crushed chillies

a single tsp -pepper Hammer toe powder

2 tbsp -Olive oil

Coriander Leaves Chopped a single tbsp
Step-step making Easy Pasta & Stuffed veg Curry Recipes
Boil plenty of water in a vessel, add pasta and 1/2 tsp oil.
Cook till pasta becomes a little tender.

Drain excess water in a colander.

Heat olive oil in a pan, add onion- garlic paste.

Saute for 5 minutes till brownish in colour.
Add peas and spices which were mixed together.

Add tomato puree and chilli paste.
Saute and cook till oil comes out from edges.

Add one and half cup of water and boil until gravy thickens. Switch off the flame.

Now Wash and dry the tomatoes and capsicums then cut off the top of each tomato and capsicums. With the handle of a pointed teaspoon scoop out all the seeds and pulp, to make a cup.

Side by side dress the pasta immediately with 3 tablespoons of the oil and black pepper to taste, and mix in the herbs, garlic, chilli and whatever other bits you have chosen to add. Check the seasoning.

Wipe the inside of each tomato, capsicum with kitchen paper, then spoon the pasta into each tomato cup and capsicums.
Brush a baking tray with some of the oil and place the tomatoes on the tray. Drizzle with oil and bake for about ten minutes or to taste.