Easy Raisin rolls by Golfo Recipes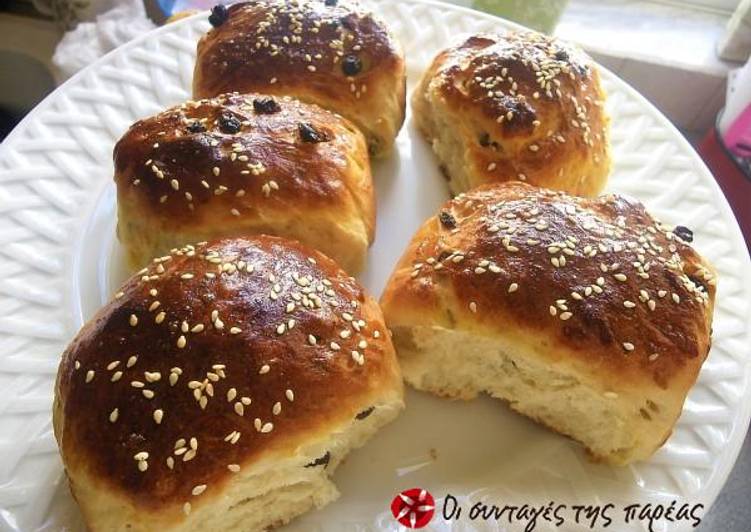 The ingredients Easy Raisin rolls by Golfo Recipes
1 pot tepid water

3 tbsp evaporated milk

40 gary fresh yeast

1 tbsp honey

3 tbsp sugar

3 1/2 cups bread flour

2 tbsp margarine

1 tsp salt

raisins, black or perhaps golden

1 pinch cinnamon (optionally)

1 egg yolk diluted with a little water to get brushing

sesame seeds (optionally)
Step-step making Easy Raisin rolls by Golfo Recipes>
Place the tepid water in a container with a lid, add the yeast and dissolve it well, then add the sugar, the honey, the milk, mix a little, put the lid on and set it aside in a hot place for 15 minutes until it foams.

Place the flourin a deep bowl, together with the margarine at room temperature, the salt, and mix well with your hands so that you have a crumbly mixture.

Add the yeast batter and knead lightly.

Place your dough on your kitchen counter that you have dusted lightly with flour and work it a little, shaping it into a ball.

Place your dough ball in the container and set it aside covered for 1 hour to rise, then put it back on a lightly dusted with flour kitchen counter and add the raisins, making sure that they are well incorporated into the dough.

Shape your dough like a baguette, cut medium-sized pieces and form them into rolls then place them in a baking tray that you have lined with greaseproof paper.

Set them aside in a warm place covered for more than an hour to allow them time to rise well and just before you place them in the oven, carefully brush them with the diluted egg yolk and sprinkle with the sesame seeds.

Bake in a preheated oven and make sure that they don't burn on top while baking.