Easy Classic Northern Beef Stew Recipes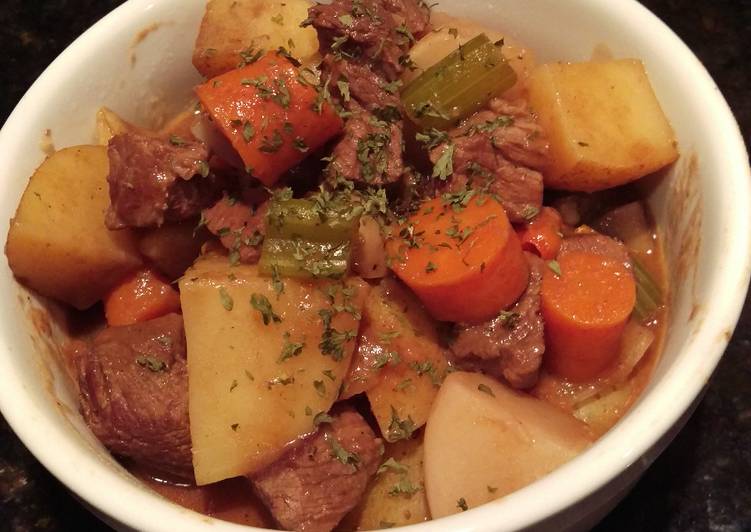 The ingredients for making Easy Classic Northern Beef Stew Recipes
1/3 mug vegetable oil

2. five lbs. beef chuck, reduce into 1-inch cubes

1/3 cup all-purpose flour

Dash salt and black pepper

2 mugs beef broth

1 mug red wine

1 bay leaf

1 medium onion, cut into wedges (8 pieces)

3 large precious metal potatoes, cut into 2-inch pieces

one lb. medium carrots, reduce into 1-inch pieces

8 oz. large mushrooms, halved

4 celery stalks, cut into 1-inch pieces

1 lb. turnips, peeled, cut into 2-inch pieces

Splash salt and black spice up

1 tsp. paprika

one tsp. dried thyme

0.5 tsp. clove (grated or even powdered)

1/2 tsp. allspice (ground or powdered)

1 can (6 oz. ) tomato insert

1/4 cup Marsala wines (optional)
Step-step making Classic Northern Beef Stew
Heat a large pot over medium-high heat with some bacon grease on the bottom. Pour in enough oil to fill the bottom of pan.

Place the beef cubes in a brown paper bag and add the flour. Close the bag and shake a few times. [This produces evenly coated and drier beef cubes]

Add the broth and wine until it covers the meat. Add the bay leaf. Bring this to a slight boil and then reduce the heat to low. Cook for 20 minutes.

Add the Marsala wine, and simmer uncovered for another 30 minutes. Remove from heat and allow this to rest for 10 minutes before serving.