Easy Kashmiri Paneer Chaman Recipes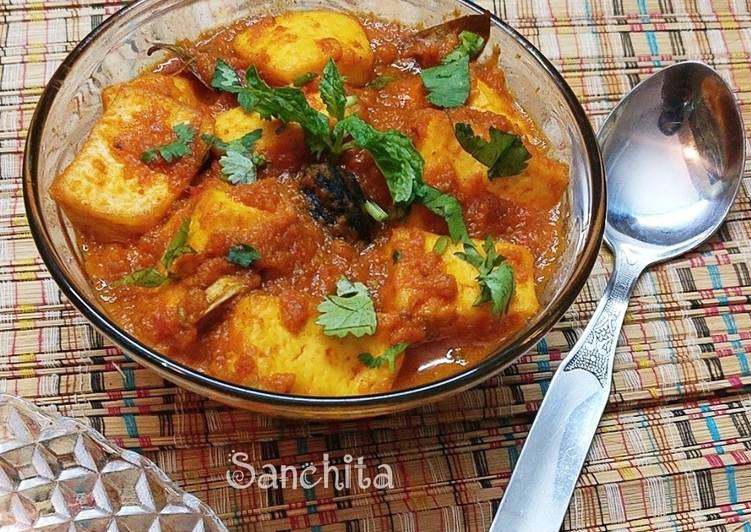 The ingredients Easy Kashmiri Paneer Chaman Recipes
2 tea spoons mustard oil

300 general motors paneer/cottage cheese

2 black cardamom

4 green cardamom

2 gulf leaves

1/4 tsp cinnamon powder

1/2 cup tomato puree

2 pinch asafetida

1/4 teaspoon dry turmeric powder

1/2 teaspoon sodium or to taste

1 tea spoons Paneer masala

1 tea spoons kashmiri red chilli powder

a single tablespoon saunf powder (aniseed powder)

1 cup drinking water or as needed

1/4 cup milk

1 cup oil for frying paneer

1 tea spoons coriander leaves chopped intended for the garnish

1 sprig mint leaves
Step-step making Easy Kashmiri Paneer Chaman Recipes
Cut the paneer into thick oblong shaped pieces of one inch dimensions.

In a wok high temperature 1 cup oil and fry typically the paneer pieces from both sides right up until golden in colour, while turning at times. Take them out and transfer straight into a bowl of water

Heat 2 teaspoons of oil throughout a wok and splutter brown cardamom, green cardamom, bay leaf and asafetida.

Add the tomato purée, salt, Kashmiri red chilli powder, paneer masala, dry ginger powder and mixture well.

Cook on channel flame until the masala leaves petrol on the sides.

Contract out the extra water from typically the fried paneer and add it to be able to the masala. Now add the milk products, cinnamon powder and saunf powder and even mix well

Add normal water in which the paneer was damp and bring it to a skin boil, simmer the flame for 2 extra minutes.

Garnish with coriander leaves and serve hot with roti and steamed rice.