Easy All in One Shepherd's Pie Recipes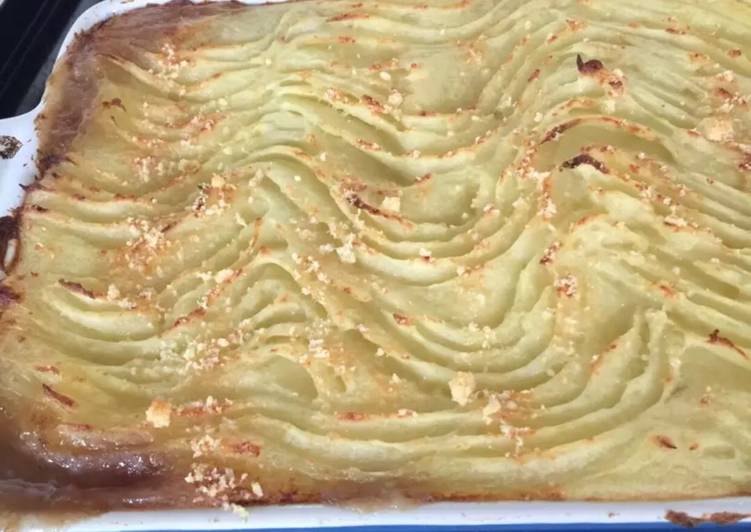 The ingredients Easy All in One Shepherd's Pie Recipes
500 grams Beef Mince

2 Big Onions

2 Tablespoons Oil

500 grams Potatoes

one hundred Grams Butter

Cup Frozen Peas

Cup Freezing Sweetcorn

Cup Frozen Mixed Sweet Peppers

2 Stock Cubes

Cup Very hot Water

Spread of Parmesan Cheese

Touch Salt
Step-step making Easy All in One Shepherd's Pie Recipes
Wash and peel the Potatoes. Cut into small pieces and put them into a pan of water, with a pinch of salt. Bring to the boil, turn down to a simmer for 15-20 minutes.

Wash and peel the carrots. Cut into small cubes and place in a pot of water. Bring to the boil, then simmer for about 15 minutes.

Peel and dice the Onions. Place in a large pan with the oil. Brown gently until soft. Add the Beef, stirring well until the meat offers turned brown.

Add the stock cubes to a cup of hot water, mix to an easy consistency and add to the Beef and Onions.

Drain the Carrots and add to the blend. Stir in the Peas, Sweetcorn, Peppers and mix well.

Put the Beef and vegetable mix in to an oven- proof dish to 2/3 full.

Drain the potatoes, place in a bowl with the butter and mash to an easy consistency. Spoon over the Beef blend all the way to the edges of the fish. Sprinkle the Parmesan Cheese over the top.

Place in a medium- hot stove for about 30-45 minutes until golden brown. Enjoy! Can be Frozen with regard to up to 6 months.