Easy Dry Brined Turkey – you'll be giving thanks for this recipe for years to come 😀 Recipes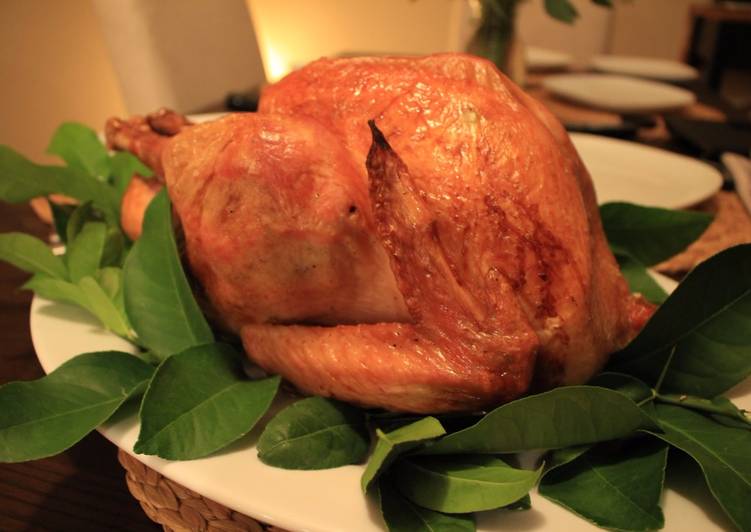 The ingredients Easy Dry Brined Turkey – you'll be giving thanks for this recipe for years to come 😀 Recipes
1 (12- to 16-pound) turkey

Kosher salt (1 Tablespoon for every 5 pounds associated with turkey weight)

onion natural powder (1/2 teaspoon for each 5 pounds of chicken weight)

dry sage (1/2 teaspoon for every five pounds of turkey weight)

dry thyme (1/2 tsp for every 5 lbs of turkey weight)

surface black pepper (1/4 tea spoons for every 5 weight of turkey weight)

glucose (1/4 teaspoon for every single 5 pounds of poultry weight)
Step-step making Easy Dry Brined Turkey – you'll be giving thanks for this recipe for years to come 😀 Recipes>
Wash the turkey inside and out, pat it dry and weigh it. Measure and mix 1 tablespoon of kosher salt, 1/2 teaspoon of onion powder, sage, and thyme, and 1/4 teaspoon of black pepper and sugar for every 5 pounds the turkey weighs (for a 15-pound turkey, you'd have 3 tablespoons kosher salt).

Sprinkle the inside of the turkey lightly with salt mixture. Place the turkey on its back and salt the breasts, concentrating the salt in the center, where the meat is thickest. You'll probably use a small more than a tablespoon. It should look liberally seasoned but not oversalted.

Turn the turkey on one side and sprinkle the entire side with salt mixture, concentrating on the thigh. Use a little less than a tablespoon. Flip the turkey over and do the same with the other side.

Place the turkey in a 2 1/2 -gallon sealable plastic bag, press out the air and seal tightly. Place the turkey breast-side up in the refrigerator. Chill for 3 days, leaving it in the bag but turning it and massaging the salt into the skin every day.

Remove the turkey from the bag. There should be no salt visible on the surface, and the skin should be moist but not wet. Wipe the turkey dry with a paper towel, place it breast-side up on a plate and refrigerate uncovered for at least 8 hours.

On the day it is to be cooked, remove the turkey from the refrigerator and leave it at room temperature at least 1 hour. Preheat the oven to 425 degrees.

Place the turkey on a roasting rack in a roasting pan; put it in the oven. After 30 minutes, reduce the oven temperature to 325 degrees, and roast until a thermometer inserted in the deepest part of the thigh, but not touching the bone, reads 165 degrees, about 2 3/4 hours total roasting.

Remove the turkey from the oven, transfer it to a warm platter or carving board; tent loosely with foil. Let stand at least 30 minutes to let the juices redistribute through the meat. Carve and serve.