Easy Winter warmer- Millet roti Recipes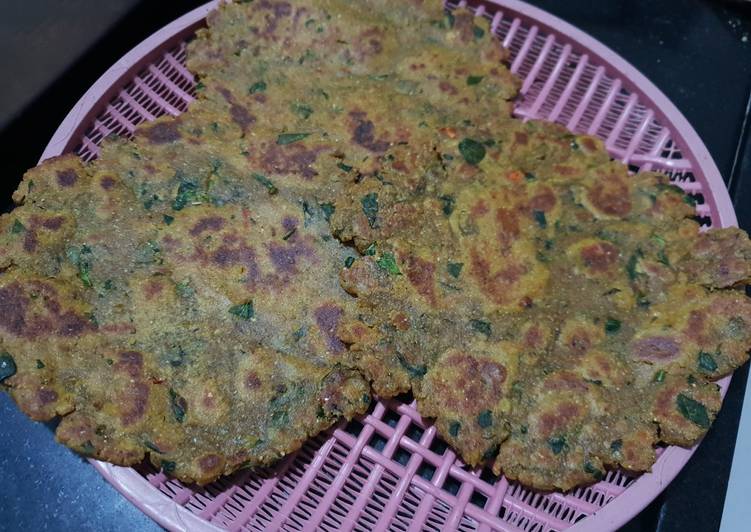 The ingredients Easy Winter warmer- Millet roti Recipes
1/2 cup Millet flour (bajri ka atta)

1/4 cup wheat flour (gehun ka atta)

3/4 cup chopped methi bhaji

4-5 garlic cloves crushed

1 tsp Turmeric powder

1 tsp red chilli powder

1/2 tsp dry cumin coriander powder

1/4 tsp hing

1 tbsp oil

to taste Salt

As needed Water

For shallow frying Ghee/ indian butter (Or oil)
Step-step making Easy Winter warmer- Millet roti Recipes
Mix bajri ka atta and gehun ka atta. Add crushed garlic, salt, meethi bhaji, hing, chilli powder, turmeric powder, cumin -coriander powder and essential oil.

Add enough water plus bind dough, not too smooth.

Roll big balls of it. It will make approx 5-6 roti.

Roll them with roller or do it with palm. Create medium thick rotis.

Warmth tawa, add roti into tawa plus roast 1st dry, keep heat upon medium flame, then turn and prepare for a while, and add ghee/ indian butter upside. Turn and put some ghee / indian butter upon another upside. (you can use essential oil also) Turn it again, cook with regard to a while and make it gentle golden and crisper.

Replicate the same for all of them.

Serve hot with dairy, curd or tea.