Easy Gobi Paratha Recipes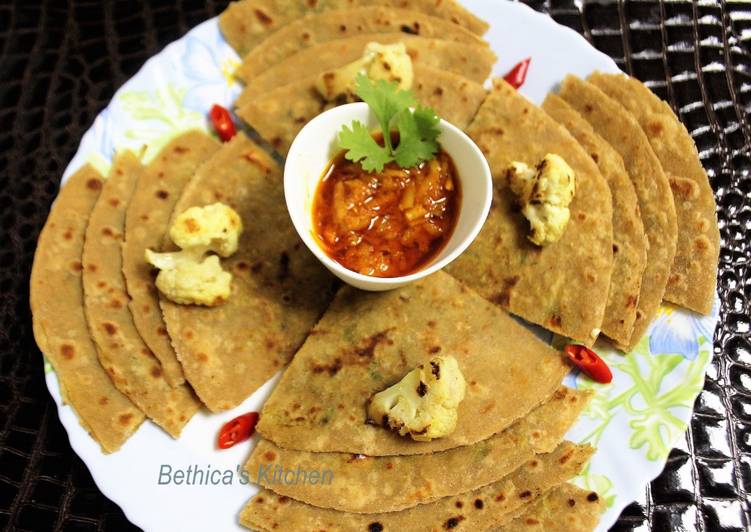 The ingredients Easy Gobi Paratha Recipes
1 small cauliflower, washed and grated

2 tbsp. roasted gram flour

to taste salt

pinch turmeric powder

1/2 tsp. red chilli powder

1 / 2 tsp. sambar powder

few curry leaves, chopped fine

1 cup atta (wheat flour)

2 tbsp. oil

oil to fry the parathas
Step-step making Easy Gobi Paratha Recipes
Heat 1 tbsp. oil in a pan and fry the cauliflower and all the dry masalas, (except atta, oil and gram flour) till dry. When cool, add the roasted gram flour and mix well and divide into 5 portions. Keep aside.

Knead a dough with the atta, pinch of salt, 1 tbsp. oil and enough water into a tight dough. Keep aside for 15 minutes. Then divide the dough into 5 equal portions and roll each one into a small circle.

Place a portion of the mix into the centre and close the edges together. Now roll out as usual into a circle. You can also place the stuffing between 2 small circles and then roll.

Heat a tsp. oil and shallow fry the stuffed parathas on both sides till golden brown in colour. Continue to fry the rest of the parathas in the similar way. Serve hot with pickles or yoghurt.