Easy Beef Tataki Recipes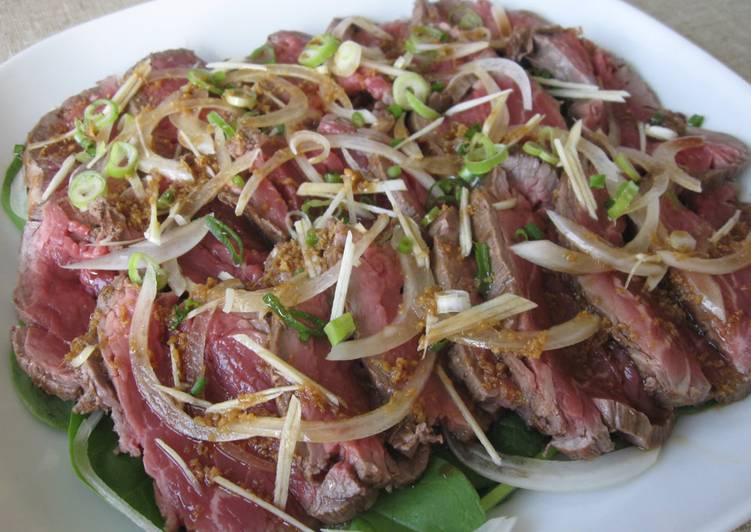 The ingredients for making Easy Beef Tataki Recipes
600-700 g Fresh Beef Fillet

Salt

Pepper

1 small piece Ginger *grated

1 clove Garlic *grated

1/2 tablespoon Oil

Onion

Baby Spinach OR other leafy vegetables

Spring Onion

1-2 cloves Garlic *sliced into thin strips

Your Favourite Sauce such as 'Ponzu' Sesame Oil, Wasabi, Garlic, Ginger or your favourite flavour
Step-step making Beef Tataki
Prepare the sauce. The sauce for 'Beef Tataki' is Ponzu base. Ponzu itself is quite nice, but you can add Sesame Oil, Wasabi, Garlic or Ginger for more flavours. Create your own Tataki sauce. See http://www.hirokoliston.com/dipping-sauce/

Sprinkle some Salt, Pepper, grated Ginger and grate Garlic onto the Beef Fillet, and massage them well.

Heat Oil in a frying pan over medium-high heat and cook beef piece on all sides turning occasionally, until all sides are well browned.

Dip the Beef in ice water for a few seconds, dry with paper towel and wrap it with plastic wrap. Place it in freezer to half freeze. This will make it easier to slice thinly.

While freezing the Beef, slice Onion very thinly. Chop up Spring Onion and slice Garlic into thin strips.

Slice the half frozen beef thinly.

Arrange Baby Spinach and the thinly sliced Onion onto a large plate, then place beef slices on top. Sprinkle chopped Spring Onion, Garlic strips and the sauce. You can serve the sauce as a dipping sauce.