Easy "Thai" Noodles with Shrimp Recipes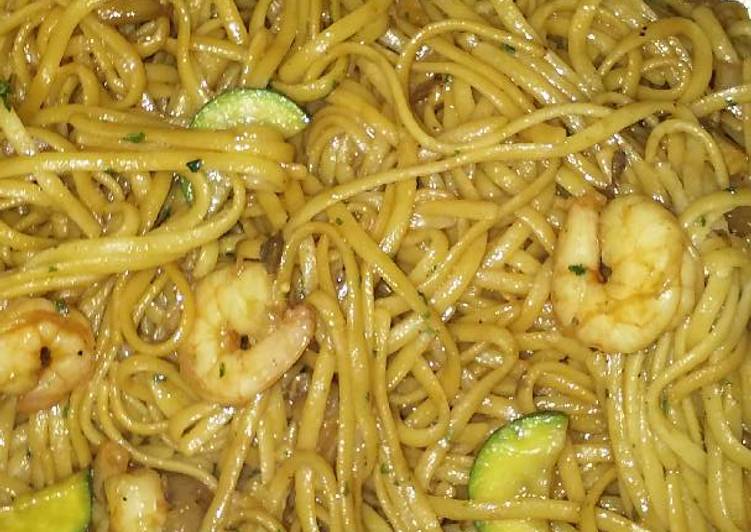 The ingredients for making Easy "Thai" Noodles with Shrimp Recipes
1/3 cup soy sauce

2 1/2 tbsp. brown sugar

1/4 tsp. ground ginger

1/4 tsp. sesame oil

1 tsp. sriracha chili spices (or more for additional spice)

just one tbsp. almond butter (see note inside step 1)

1 tbsp. honey

.5 lb. fettuccini or spaghetti noodles

1 tbsp. olive oil

1 zucchini, sliced into money then in half

8 oz. mushrooms, chopped

1/2 onion, diced

3 cloves garlic, minced

1 lb. shrimp, deveined and tails removed

just one handful cilantro, chopped

green onions
Step-step making "Thai" Noodles with Shrimp
In a measuring cup (or medium bowl) whisk together the soy sauce, brown sugar, ginger, sriracha, sesame oil, peanut butter** (if you'd prefer more texture, leave the peanut butter out of the sauce and top finished pasta with 1/4 cup chopped peanuts instead) and honey until well blended (of using the peanut butter, sauce will be slightly lumpy, but the peanut butter will fully melt and absorb when added to the hot ingredients). Set aside.

Start a large pot of water on high heat. Start step 3 while water is heating.

While waiting on the water to come to a boil, in a large skillet, add the olive oil and heat on medium heat. Once water reaches a boil, add the fettuccini noodles to the pot and cook according to package directions. Add to the skillet the mushrooms, zucchini and onions. Cook for about 5 minutes or so, while your pasta is cooking. After 5 or so minutes, add the garlic. Cook a minute or so more, until fragrant.

Your pasta should be done cooking by now. Drain the pasta and return to the pot.

Add the cooked shrimp and veggies to the pot with the cooked pasta. Pour the soy sauce mixture over the top and stir everything around with a wooden spoon until the sauce has coated everything. Stir in the cilantro and green onions. **(If using chopped peanuts instead of peanut butter in the sauce, then top individual portions with them).