Easy Pasta Primavera Recipes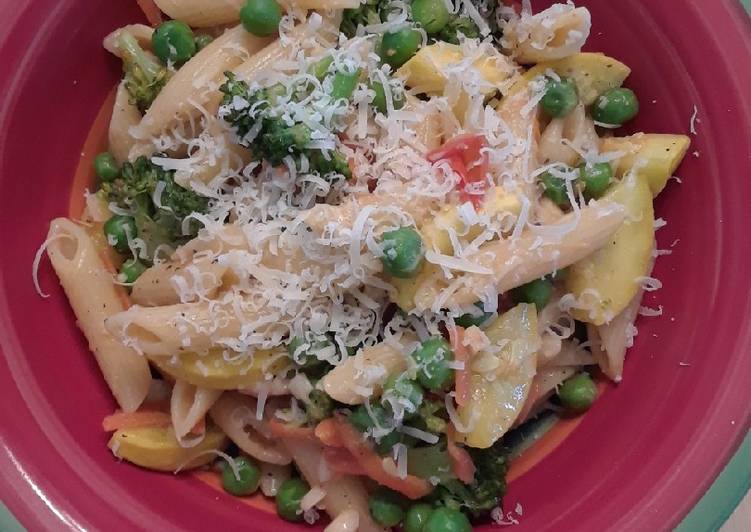 The ingredients Easy Pasta Primavera Recipes
3 tbsp. salted butter, divided

About 2 cups chopped veggies (see step 1 for more details)

3 cloves garlic, minced

2 cups penne pasta, uncooked

Salt and pepper

1/4 tsp. Italian seasoning

1/4 tsp. salt free all purpose seasoning

Zest of 1 large lemon

Juice of half large lemon

1/2 cup reserved starchy pasta water

1/4 cup freshly grated parmesan cheese more for topping
Step-step making Easy Pasta Primavera Recipes
For this recipe, it's pretty versatile, so use whatever veggies you have on hand, just be sure to chop them all to roughly even pieces. Pictured up top, I used yellow squash, broccoli florets, shredded carrots, sliced cherry tomatoes, green onions and peas… just to give an idea. This is a great chance to clean out the veggie drawer.

Heat a large pot of salted water over high heat. Once it comes to a boil, cook the penne pasta according to the box directions until it is al dente. Before draining the pasta, reserve about 1/2 cup of the starchy water and set it aside, then drain the pasta and return it to the empty pot. While you're waiting on the water to boil, begin to cook the veggies, that way everything should be finished at roughly the same time.

In a large skillet, heat 1 tbsp. of the butter over medium heat. If you have some heartier veggies, add them to the skillet first (I added my broccoli florets and yellow squash first, to give them a head start), then add more delicate veggies after the heartier ones have had a few minutes to soften up a bit. Once all the veggies are relatively crisp-tender, add in the garlic and season it all with the Italian seasoning, all purpose seasoning and about 1/4 tsp. each of salt and pepper.

Once the veggies are ready, toss them into the pot with the cooked pasta, then top with the remaining butter, lemon zest, lemon juice and grated parmesan. Stir it all together, then drizzle in the reserved pasta water a bit at a time, until the pasta is at a good consistency (I usually end up using closer to 1/4 cup). Taste and season with some more salt and pepper, to taste. Then serve with some additional freshly grated parmesan cheese over the top.