Easy Whosaynas Chevda Recipes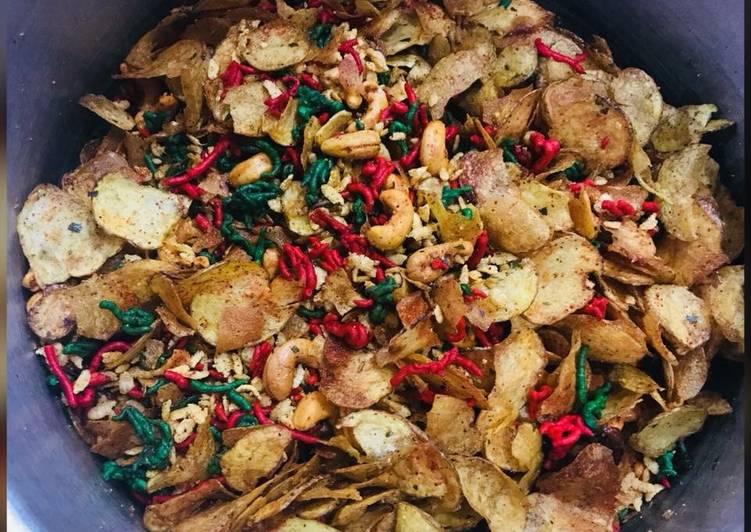 The ingredients Easy Whosaynas Chevda Recipes
6 Potatoes

1 cup Chana Daal or Yellow Moong Daal (soak a night before)

1 cup Cashewnuts

1 cup Peanuts

2 cups Poha (flaked rice)

10-12 strigs of Curry leaves

8 Dried Red Chillies

1/2 tsp Citric Acid (Limbu ka Phool)

2 tsps Sugar

As required Salt

1 tsp Chilli powder

1/2 tsp Turmeric powder

1 tbsp Fennel Seeds

Ghatia:

11/2 cup Gram flour/Besan

As required Salt

1/2 tsp Chilli powder

pinch Turmeric powder

1/2 tsp Baking powder
Step-step making Easy Whosaynas Chevda Recipes
Mix ghatia ingredients with water to be able to sticky dough. Remove half of that in a bowl, colour it renewable and the other red. Use a person colour dough at a time, set in ghatia machine and deep flame up, keep on strainer. When cooled along break them.
On a major thhal lay kitchen paper on. Dump broken ghatias on it.
Wash potatoes with skin and piece thinly using slicer, deep fry to be able to crisps, keep on strainer, when all of done and strained pour on thhali.
Fry the rest of chevda ingredients one by one.
Dump on thhali.

Lastly preserve of flame in hot oil flame up curry leaves, fennel seeds and chillies together till crisped up. Put in strainer. Then pour on thhali
Add salt and spices, toss very well.
Make sure oil is all of strained on kitchen paper can adjust paper too.
when cooled along keep in airtight container.