Easy Candy cane danish Recipes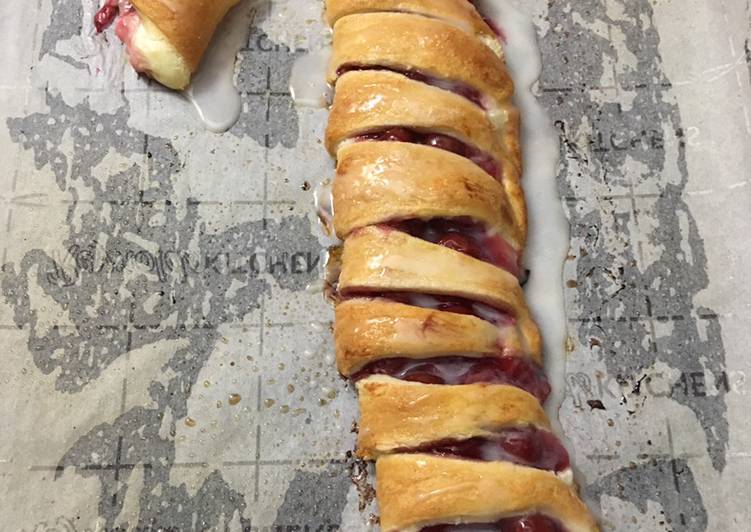 The ingredients Easy Candy cane danish Recipes
1 could (8 oz) Pillsbury chilled crescent rolls

4 oz (from 8-oz package) cream cheese, melted

2 tablespoons

1 could cherry pie filling

just one tablespoon butter, melted

plus 1 teaspoon granulated glucose (for the top after you spread it)

Glaze

1/4 glass powdered sugar

1/2-1 tea spoons milk
Step-step making Easy Candy cane danish Recipes
Heat oven to 375F. Line large cookie sheet with cooking parchment paper; spray generously with cooking spray. Unroll dough; separate into 8 triangles. Cut each triangle in half lengthwise. On cookie sheet, place crescent triangles lengthwise in long row, pointing same direction, with edges overlapping slightly on cookie sheet. Press overlapping edges together to help seal, but leave triangle points free.

In small bowl, beat cream cheese and 2 tablespoons of the granulated sugar with spoon until well blended. Spread cream cheese mixture in 2 1/2-inch wide strip lengthwise on widest part of dough, leaving 1/2-inch place on top of cream cheese layer, then add the cherry pie filling dont put to much. (see pictures)

Bake 16 to 20 minutes or until golden brown. Cool 5 minutes on cookie sheet. Use spatula to carefully help slide Danish from parchment to serving platter, loosening edges with spatula first, if needed. In small bowl, mix powdered sugar and 1/2 teaspoon of the milk until well blended. If too thick to drizzle, add additional drops of milk. Drizzle with fork over top. Serve warm.

Notes- iam bad at forgetting to room temp…. I put the cream cheese in the microwave for under 30 sec…. work out good that way. I left mine on the cookie sheet, and should of cooled it more before added the icing, my icing melted lol! IF YOU GET TWO CANS OF Crescent rolls you will have enough ingredients to make two of these, or can make one cherry one apple.