Easy Colorful Rice Tower Inspired by the Front-Page of AAA Westways Magazine for March/April 2019 Recipes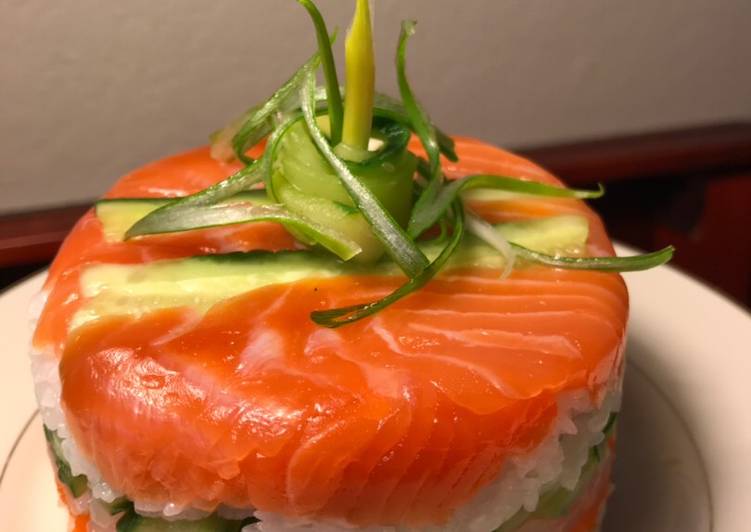 The ingredients Easy Colorful Rice Tower Inspired by the Front-Page of AAA Westways Magazine for March/April 2019 Recipes
Salmon

Ika (squids)

two small pickle cucumbers

Masago

Artificial Crabs

Vinegar

Sugars

Salt

Minced garlic

Mayonnaise

Sushi vinegar
Step-step making Easy Colorful Rice Tower Inspired by the Front-Page of AAA Westways Magazine for March/April 2019 Recipes
Sprinkle salt and water on salmon. Let rest for 1 hour. After one hour, rinse off salt and dry the fish well. I really like this technique. Not only the fish tastes better it also looks better when sliced. Slice into thin slices.

Cut cucumbers into halves. Slice into not too thin slices. Sprinkle 1/4 tsp of salt and 1/2 tsp of sugar. Mix well. Set aside for 20 minutes. After 20 minutes, squeeze lightly off extra juice. In a bowl, put 1 tsp of sugar, 1 tsp of vinegar, a pinch of salt. Mix cucumbers well. Choose two best slices for decoration. Cut the rest into small pieces so when you eat, you won't have to deal with big pieces of cucumbers.

In a bowl, put 1/2 cup of cook rice. Add 1/2 Tbsp of sushi seasoning.

In a ramekin, line salmon and some cucumbers, next the rice, thinly spread around. Next, cucumbers(cut into small pieces), then squids, next masago, then rice, last are the artificial crabs mixed in mayonnaise.