Easy Apple and kiwi ki Barfi Recipes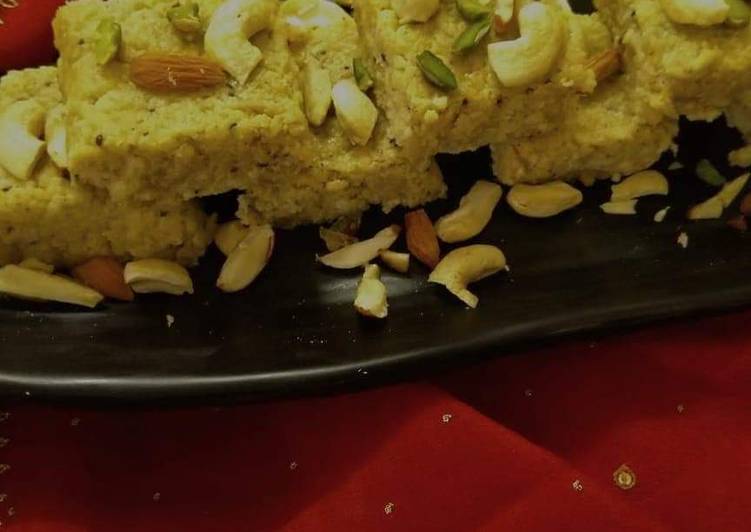 The ingredients Easy Apple and kiwi ki Barfi Recipes
1 lt cow milk

100 gmc Mashed fresh Paneer

you tbsp ghee

1 tablespoon Cardamom powder

1/2 pot ground sugar

2 kiwi

1 the apple company

5-6 roasted walnuts

5-6 roasted cashew nuts

doze roasted pistachios

as wanted Dry fruits for decoration over Barfi
Step-step making Easy Apple and kiwi ki Barfi Recipes
Roast cashew nuts, almonds and pistachios lightly on a non-stick pan. When it cools down, keep it in a grinder jar and grind it.

Peel the kiwi and apple. Grate the apple. Grind the kiwi in a grinder jar.

Add a spoonful of ghee on a non-stick pan, add the grated apple in it and saute with a spoon. When the apple becomes light red, add puree of kiwi in it and saute it for 1 to 2 minutes. Then add 1/2 cup of sugar and half teaspoon of cardamom powder and fry it well and turn away the gas.

Heat the cow's milk on the gas in a wide bottom pan and stir it continuously with a spoon. When the milk becomes thick and become less than half, add roasted floor dryfruits in it and stir constantly with a spoon.

After this add the mashed paneer and stir it with the a spoon. Then put the fried apple and kiwi in it and keep stirring continuously with the spoon. Put sugars and cardamom powder in it and keep it stirring with spoon.

When it becomes exactly like halwa, then take it out in a plate. Spread it in a plate and keep it in the freeze for 3 hours. After a few hours remove it from the deep freeze and cut it into barfi shape and garnish with dried fruits.